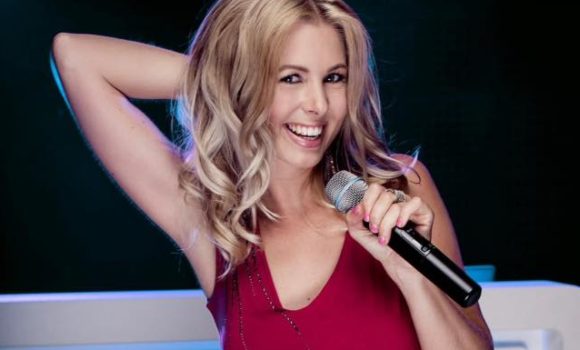 Rose & DJ
Bruiloft, DJ's, Duo's, Kerst, Zakelijke events
Omschrijving
In duo Rose & DJ zingt de zangeres en draait de DJ de passende muziek voor jullie gasten. Bovendien hoor je ook samenzang van de DJ & de zangeres. Het is als gast ook mogelijk om een nummer met hen mee te zingen. De invulling is per gelegenheid weer anders en de gasten kunnen aanvragen wat ze graag willen horen. Het repertoire is slechts een greep uit de diverse mogelijkheden, alles kan gezongen of gedraaid worden tijden uw feest. Interactie staat hoog in het vaandel bij duo Rose & DJ 
De avond begint voor duo Rose & DJ bij binnenkomst en jullie worden ontvangen met sfeervolle live muziek. Bovendien creëren zij een gezellige aankleding en lichtshow op aanvraag. De invulling, de muziek en de duur van de show is compleet naar wens af te stemmen. 
De zangeres is ook als solo act te boeken. 
Repertoire
Repertoire
Onderstaande lijst betreft de nummers van de zangeres onderverdeeld in genres.
POP/TOP40
Adele -Medly  (met oa rolling in the deep)
Adele -Set fire to the rain(reggae mix)
Alyssa Reid -Alone again 
Amy Mac Donald -This is the life 
Amy Winehouse -Valerie 
Anouk -Sacrifice 
Brooke Fraser -Something in the water
Beatles -Let it be 
Belle Perez- El mundo bailando
Bruno Mars -Locked out of heaven 
Bruno Mars- Marry u
Brooke Fraser -Something in the water 
Bryan Adam/Mel.C -When youre gone
Caro Emerald -Tangled up 
Caro Emerald -A night like this
Duffy -Mercy 
Emili Sande -Next to me 
Ilse de Lange -I'll be yours 
Ilse de Lange -I'm not so tough 
Ilse de Lange -Next to me
Jennifer Lopez -Let's get loud
KT-Tunstall -Suddenly I see 
Lady Gaga -Pokerface 
Lady Entebellum -Need you know 
Lilly Allen -Not fair
Leann Rimes -Cant fight the moonlight
Los Lobos -La bamba 
Linda Ronstadd -It's so easy
Lynyrd Skynyrd -Sweet home alabama 
Madonna -Give it 2 me
Magic -Rude 
Marvin G. & Tina T. -It takes two Duet 
Michelle B. ft Santana -The game of love 
Meghan Trainor -All about that bass
Miss Montreal -Just a Flirt 
Mr. Present -CocoJambo 
Nancy Sinatra -These Boots 
Nathalie Imbruglia –Torn
Nossa -Mas que nada 
Pharrel Williams –Happy
Sammy & Morgan -He Drinks Tequila Duet
Shakira -Waka Waka 
Shocking Blue -Venus 
Shirley Bassey -Big Spender Act
Spice Girls –Medley
Toppers -Latinomedley 
Toppers -Trini lopez medley
The Doobie Brothers -Long train running 
Vengaboys -Were going to ibiza 
Vengaboys -Medley
DISCO/FUNK
Abba -Medley 
Abba -Mamma mia
Bruno Mars -Uptown Funk
Chic -Le Freak
Dan Hartman -Relight my fire
Dolly Dots -Love me just a little bit more
Flear east- sax
Ike & Tina Turner -Proud mary
Greasemegamix
Kathrina & the Waves -Walking on Sunshine
Kool & the Gang –Celebration
Pointer sisters -I'm so excited 
Randy Crawford -You might need somebody
Stevie Wonder -Superstition 
Stevie Wonder -I wish
The Tramps – Disco Inferno
The weathergirls- It's raining men
Wild Cherry -Play that funky music
DANCE
Alexandra Stan -Mr. Saxobeat
Coldplay -Sky full of stars 
Clean Bandit -Rather be
David Guetta -Shot me down
Dj Sammy ft do –Heaven
Felix ft Jasmine T. -Ain't nobody
Klingande –Jubel
Lost Frequencies- Are you with me
Milk & Sugar -Ney Nah Nah Nah
Meck ft Dino- Feels like a prayer
Pittbull & Christina A -Feel this moment 
Pitbull & Kesha -Timber 
Rihanna -We found love
Wildstyles -Year of summer 
Years&Years -King
ROCK/ROCK'N ROLL
Anouk -Are u kidding me
Cheap Trick -I want you to want me
Fleetwood mac- Go your own way
Joann Jet -I love Rock&Roll 
Ike & Tina Turner- Proud mary
Kings of Leon -Sex on Fire
Melissa Etheridge -Like the way I do
Status Quo -Rocking all over the world
NEDERLANDSTALIG
Andre Hazes jr – Leef
Andre Hazes – Zij gelooft in mij
Arjon -Zakka Zakka 
Arjon –Schudden
Carlo & Irena- Nog 3 minuten
De Dijk -Ik kan het niet alleen
Django Wagner-  Vanaf vandaag
Frans duits- Jij denkt maar dat je alles mag van mij
Jan Smit- Echte vrienden
Jeroen van de Boom- Mag ik dan bij jou
Johnny Gold- Samen zijn
John de Bever- Jij krijgt de lach niet meer van mijn gezicht
Guus Meeuwis- Brabant
Henk Dissel –  De Bom
K3 –Medley
Kenny B –Parijs
Linda, Roos en Jesscia – Ademnood
Marco Borsato -Je hoeft niet naar huis vanacht
Nick & Simon –Rosanne
Rene schuurmans -Laat de zon in je hart
Tom Haver -Samen vanavond
Wolter Kroes: Viva Hollandia
BALLADS (BRUILOFT CEREMONIE OF AANSNIJDEN BRUILOFT)
Anouk –Michel
Adele -I can make you love me 
Adele -Make u feel my love
Adele-  Someone like you
Bruno Mars- Just the way you are (acoustisch)
Bruno Mars- Marry u
Claudia de Brei -Mag ik dan bij jou
Do -Heaven Pianoversie
Eva Cassidy -Fields of Gold
Eros R. & Anastacia -I belong to you Duet
Fairground Attraction -Perfect
Ilse de Lange -I love you
John Legend -All of me
Kacey Musgraves- Keep it to yourself
Karen souza- Can't help falling in love
Karen souza- Smoother operator
Karen souza- Summertime
Karen souza- Sweet dreams
Laura Janssen -Use Somebody
Lisa Lois –Hallelua
Lucie Silvas -Nothing else matters
Norah Jones –Sunrise
Postmodern Jukebox – All  about that bass
Sarah meniscal- Don't speak
Sarah meniscal – Time after time
Sarah meniscal- Here comes the sun
KERST
Amy Grant-  Winterwonderland
Amy Grant- A Christmas to remember
Amy Grant- Tennessee Christmas
Beyonce- Ave maria
Brenda Lee- Jingle Bell Rock
Brenda Lee -Rocking around the christmastree
Britney Spears- My only wish
Deborah Allen -Rocking little Christmas
Jan & Monique Smit -Kerst voor iedereen
Jose Felciano -Feliz navidad
Lady Antebellum- A Holly jolly Christmas
Lady Antebellum – All I want for Christmas
Lady Antebellum – Let it snow
Kaystarr -Man with the bag
Mariah Carey -Santa Claus is coming to town
Miss Montreal -Being alone at Christmas
Nick & Simon -Santa Party
Taylor Swift -Santa baby 
Taylor Swift -Last Christmas 
Taylor Swift -White Christmas
The Carpenters -Merry Christmas darling 
The Carpenters -Have yourself a merry little christmas 
The Ronettes -Sleigh Ride
DRAAIEN
Diversen stylen mogelijk: Gedurende de avond draaien we voor ieder wat wils, dit kan varieren van  disco, latin, een fokstrot en zelfs wat hardstyle. We maken altijd een mix die voor iedereen leuk is.